This episode of The Old Mole Variety Hour is hosted by Frann Michel, and includes these segments:
Bill Resnick talks with Greg McKelvey and reflects on the protests locally and nationally, which continue and as of this weekend show no sign of diminishing.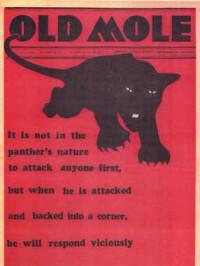 As part of their ongoing discussing about public health, Jan Haaken and Patricia Kullberg take up the Black Panther's vision and practice of community-based health care, which the Panthers formulated in the wake of the urban uprisings of the mid-1960's. By organizing in African American communities to challenge dominant ideas about Black bodies and the historic exclusion of African-Americans from access to mainstream medicine, they developed a radical public health practice that offers lessons for activists today.
Desiree Hellegers speaks with Hyung Nam with the Portland Metro People's Coalition about Thursday's hearing on the Portland Police Bureau budget, the upcoming vote this week, and the movement to defund the Portland Police.
First aired on KBOO Radio.
---

This work is licensed under a Creative Commons Attribution-NonCommercial-NoDerivatives 4.0 International License